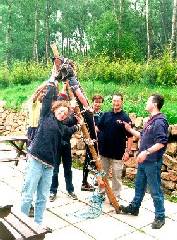 Himalayan Hands put a lot of effort into training and preparation for the expedition. This training took many forms including: First Aid, Language, Kit, Culture, Health and Hygiene, and Physical fitness.
The training was split into two main areas: General Expedition Training and Individual Team Training.
As well as all these activities the Phortse team spent many weekends walking with and without packs to get used to the strenuous exercise that would be involved with walking and working at altitude.
General Expedition Training
HH Training 1, Sept 98 - Hope
HH Training 2, Nov 98 - Drum Hill
HH Training 3, May 99 - Drum Hill
HH Training 4, Sept 99 - Hope
Expedition First Aid
New Years Walk, Jan 1999
Phortse Team Training
The Longmind, Shropshire, 16th - 18th Feb 1999
The White Peak, 13th - 14th March & The Ridgeway, Oxford, 23rd - 24th April 1999
The Three Peaks, Yorkshire, 19th - 20th June 1999
Raleigh In Wales, The Breckon Beakons, 24th - 25th July 1999
The Lake District, 28th - 29th August 1999