The Brecon Beacons, Raleigh In Wales
24th - 25th July 1999

Camped around a Tilly Lamp
Most of our training weekends had involved some element of physical training to get us fit. Although this was important due to the demanding physical nature of our project this was not all that mattered to us.
We thought it would be good to become involved in a community project here in the UK. Through the Raleigh Support group here in the UK we signed up to help do some construction work in Wales on the edge of talybont reservoir in the Brecon Beacons.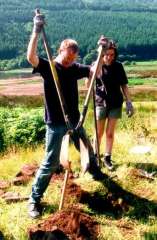 Overgrown Salad Tongs
And so it was that we found ourselves teamed up with people from all over the country to help build a bird hide for disabled people. The bird hide was to be built backing on to the road to give access to wheel chair users and was constructed out of basic building timber.
Our job that weekend was to dig the holes for the supporting pillars of the hide. This job was harder than it first seemed as the site chosen for the hide turned out to be the former site of a farm house long since disappeared. Unfortunately the stones it was built out of had certainly not disappeared and the ground was one big boulder field. With long crowbars, spades and what appeared to be overgrown salad tongs we dug into the soil bit by bit until we had dug out a total of 14 holes.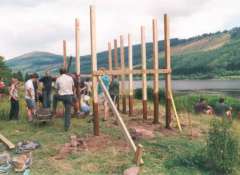 Overgrown Matchsticks
The supporting pillars were then loaded into these holes and cemented in with concrete. This then had to be left for two weeks while the concrete fully hardened leaving the bird hide looking more like a series of overgrown matchsticks.
A well as the bird hide we had a chance to repair some dry stone walls in the area. This skill gave us more of an appreciation of low tech building techniques more appropriate to the style of building in Nepal. The weekend though hard work was really enjoyable giving a chance to get involved with projects and people in our own country.