Background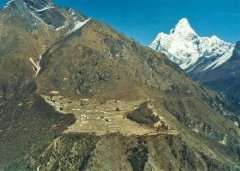 The village of Phortse
The small village of Phortse is situated in the Eastern Himalayas, north of Namche Bazar, at a height of 3840m. The inhabitants are 400 Sherpas, whose livelihoods are based on farming small plots of land and acting as guides or porters during the tourist season. One of the main problems in such a remote community is the provision of a proper education for the children, and a key factor in this is attracting and retaining good teachers.
To this end much work has gone into the promotion of education within the village with building of teaching accommodation and maintenance of school buildings, and now as of 1999 a new school has been built.
Our project had three main parts, all involved with the school in Phortse:
To finish off the work on a newly built school.
To convert the main room in the old school into an indoor play area for the children, and
To turn the end room of the old school into a secure telecommunications room for the future.
These projects and many others within the village have all been completed with the help of a British volunteer, Tony Freake J.P, who also helped set up our project.
More on Tony Freake...
Background | New School | Old School | Telecomms | Conclusion