The Three Peaks, Yorkshire
19th - 20th June 1999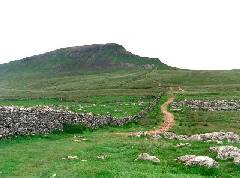 Pen-y-ghent
Armed with the knowledge that our trek to Phortse would be one of the most physically gruelling things that we had ever undertook, the team starting long distance trek-training in earnest. One event that took our fancy was the Yorkshire 3 Peaks Challenge. The challenge (Itís ongoing and anyone can join in) is to scale the 3 highest peaks in Yorkshire namely Whernside, Ingleborough and Pen-y-ghent (walking between them) in the shortest possible time.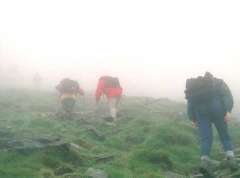 Climbing into the mist
We assembled ourselves at the Railway Inn which nestles under the famous arches of the Ribble Head viaduct on the Settle to Carlisle railway on a dark but pleasant night in June 1999 and planned to set out bright and early the next morning. Fortifying ourselves with copious amounts of Theakstonís we were confident that we could complete the challenge and get back within 7 hours. The next day dawned foggy and dank, so foggy that we were actually unable to see the great bulk of Whernside from the hostel. Undeterred, we pressed on and pushed on so fast that we found ourselves up, over and on to Ingleborough in record time. The rain stopped periodically and we had time to look around the stunning surroundings and wonder at the sanity of the runners we saw attempting to run the 3 Peaks Marathon.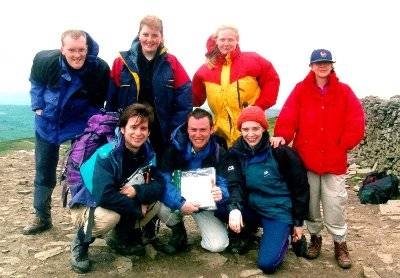 The last summit
The walk between Whernside and Ingleborough was taken steadily and by lunch-time we thought we had everything sown up. We hadnít actually bargained for the next 4 or so hours that it took us in the torrential and driving rain to walk between Ingleborough and Pen-y-ghent, getting caught in monstrous mud, drinking enormous cups of hot chocolate by a wayside cafť and losing the plot a little due to sore feet and wet gear. All in all we actually completed the challenge, proved to ourselves that we could navigate in very bad conditions, got very wet but didnít manage to do it in 7 hours. We got back in the dark and had very large meals accompanied by even larger mugs of beer. Cheers!
Adele Wright