The White Peak & The Ridgeway
13th - 14th March & 23rd - 24th April 1999
After the last report on the activities of Zena's intrepid followers, the Phortse project team have met up twice. Our secret training camps hidden throughout the British Isles cannot be positively identified for security reasons, but we are able to disclose a limited account exclusively for the Himalayan Herald.
The White Peak weekend
This weekend was notable for the absence of Woolfie and Ian. Ian had a family celebration to attend, but Woolfie had bigger problems to contend with having locked himself out of not just one, but (incredibly) two houses.
The full range of advanced navigational techniques and ability to survive in hostile environments were called upon from the outset, as we struggled to find Zena's house. Adele and Hannah (in car) went to the wrong city (a cunning ploy to shake off anyone who might have followed them), and our taxi driver had to radio for assistance.
Spare clothes, first aid kits and waterproofs are for wimps - in this group we carry boulders in our rucksacks. This ballasting was mainly to make sure we reached Zena's minimum rucksack weight of 10 tonnes not including lunch (or was that kilos?). And so, suitably weighed down and kitted out with new boots we set out from Middleton Top. Slowly. With the benefit of good weather our route took in impressive views across Carsington Reservoir and Brassington Moor before stopping for lunch in Brassington itself. At this point we conducted a strategic review of progress so far and realised we'd only done three miles - with nine more to go.
Undaunted, we carried on to the valley of the Via Gellia and climbed up and down its very steep sides twice. Once just wouldn't have been enough - especially since we'd chickened out on the nine mile walk and shortened the route a bit!
For the evening we returned to Zena's secret lair for a very civilised meal and discussion about the confusing world of walking equipment jargon. All in all, a very satisfying weekend - and all the boulders made it home too.
The Ridgeway
Our third weekend looked like being cancelled, but we just couldn't let that happen. So even though Adele was in the middle of moving house, we decided to head to Oxfordshire to the famous Ridgeway. Wantage youth hostel was our base for Friday night and is a superb restoration of several historic barns - much recommended.
Our growing walking ability (we'd had a whole month's dedicated training) was reflected in a 15 mile route. There were no boulders this time, but we were carrying at least 12 kilos each - more than the last walk in fact. Ian of course volunteered to carry extra to make up for missing the last weekend, which meant that when viewed from behind he appeared to be just a rucksack on legs.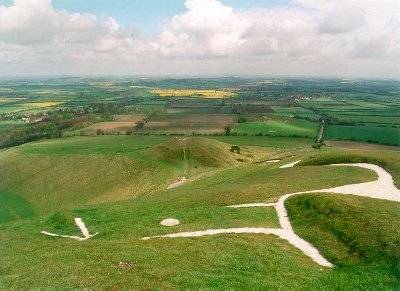 The white horse at Uffington
The rolling Oxfordshire hills proved no match for our hardened team. We passed the White Horse at Uffington, crossed adder-infested fields, and ambled through picturesque villages before finding ourselves back at the inevitable pub. John noticed a really rare sports car parked outside and was impressing us all with his explanation of how unusual it was, when Zena spotted an identical one next to it, and another, and another. In fact the car park was literally full of them. John's credibility in the automotive field now lies in tatters (good job he works for the railway really).
Roll on the next weekend where, if current trends continue, we'll be walking over 20 miles and carrying a similar number of kilograms. Still our team is definitely bonding (although we keep trying to convince Zena we'd happily bond in the pub) and we're all looking forward to the next Himalayan Hands weekend in May. Will Woolfie ever reappear? Are Zena's training plans in breach of the Geneva convention? And just how many people can we get into Adele's car? Find out in the next thrilling instalment.
Helen and John Simpson