The Village of Phortse.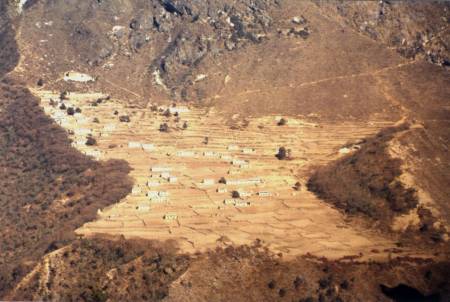 Phortse is a small Sherpa village situated in the Eastern Himalayas, on the trekking route to Everest, at a height of 3840m. Phortse is primarily a farming village with its chief crop being potatoes. Phortse was the highest permanently inhabited village in the Solu Khumbu region until trekking in the area opened up the once seasonal pasture village of Gokyo. Modern times have brought many changes to the region and Phortse, though remote, is beginning to see the effects of this. The village now has a couple of tea houses (lodges) for passing trekkers, and there is good money to be made working as porters and guides for foreign tourists.
The village has been assisted for many years by a British volunteer, Tony Freake J.P., who has funded and helped to construct a teacher's hostel, a medical clinic and a Buddhist monastery. He has also worked with the villagers to maintain their school, which is an old building in need of a lot of upkeep. More on Tony Freake...
Background | Location | Village Committee | Key Aspects | Surrounding Villages