Old School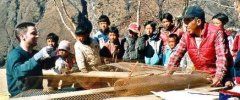 The second part of the project was to convert the old classroom into an indoor play area for the children.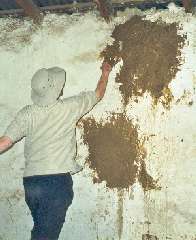 Having removed the old partitions (later to be recycled into the dry lining for the telecomms room), we plastered the walls in the traditional mud plaster using clay found from around the village. Panuru, our guide, showed us how to make the plaster and demonstrated the mud slinging technique to get it to stick to the walls.
After the plaster was dry, we painted the walls and windows and installed new Perspex skylights (with the help of a local trekking guide/carpenter).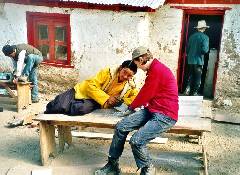 We also repaired and recycled the old school benches to create new seating. for within the play area. Sometimes our help from the villages was from more unusual sources. This trainee monk in the picture came over from Tengboche and offered to help whist passing through the village as he used to be a carpenter.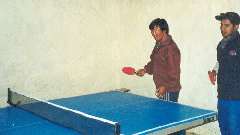 Once the room was completed we fitted a brand new table tennis table imported from India and carried to Phortse by porters. Watch out for a table tennis player from Phortse in the next Olympics!

Background | New School | Old School | Telecomms | Conclusion