Telecommunications Room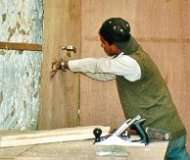 Installing a dry lining
The third part of the project involved converting the old teacher's room into a telecomms office, in preparation for a telephone line being installed in the village. For more information on this see future projects.
This part of the project involved a lot of construction work and design and was one of the most involved parts of the project. Unfortunately the wood we had been promised for construction had not arrived and we had to make do with whatever we could salvage from other sources in the village. Ironically the wood arrived the day we left for home.
The room was stripped bear and the walls were lined using recycled wooden panels, a counter was built to the villagers specifications and the door and window were refurbished, to make the office secure and draft free.

Background | New School | Old School | Telecomms | Conclusion