Surrounding Villages
Although remote, Phortse is not a village in isolation and is surrounded by other mountain villages in the Sagamartha National Park. Most of these villages are no more than half a days walk for the local people though it took us much longer to travel between them.

Phortse trades its potato crop with other villages further down the valley able to grow other vegetables and livestock in warmer climes.

Also with the money that comes in from tourism, monetary trade is possible with places further afield. Many different products are now brought up the Dudh Kosi valley from Lukla airport.




Namche Bazar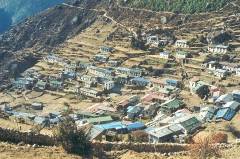 Namche Bazar is the administrative centre of the Sagamartha National Park and is the biggest village in the area. It is a thriving bustling community swelled greatly by the tourist trade but still very much the local market town as well. A Tibetan market can also often be found in the lower half of Namche camped out on some waste ground. It was at Namche that we were able to buy the remainder of the tools we needed for our project in Phortse. Namche also has electricity supplied from a small local hydro-electric plant. This supply is more than enough for the needs of Namche alone and so it is connected to a number of surrounding villages as well. It is to this supply that Phortse will also be connected in the near future.

Tengboche
Tengboche is the home of the largest Bhudist monastery in the area. This monastery is also a monk training school and it is common for the second male child of a family to train to be a monk from the age of about 7 or 8. Tengboche is very picturesque perched on a ridge of wooded land below the angular mountain of Ama Dablam and in sight of Everest.It felt very peaceful just to stay there a while. It is possible to see Tengboche from the edge of Phortse lying above the other side of the valley.

Pangboche

Pangboche is famous for having the oldest Bhudist monastery in the area, hundreds of years old. Until recently Tengboche monastery was also of similar age but a fire destroyed the old buildings giving birth to the new monastery seen there today.

Khumjung

Khumjung lies just to the north of Namche Bazar and is the site of the first Edmund Hillary School in the region. The Hillary trust has been supporting this region of Nepal ever since the first successful summit of Everest, and now supports several schools and other community projects.

Khunde

Khunde has the region's only permanent hospital, run by western doctors on a sabbatical basis for a year or two at a time and provides an invaluable service to the region. Khunde is also famous for its Yeti skull. Locked away in a small cabinet in Khunde monastery is this round red hairy thing, looking more of a scalp than a skull we could not confirm its origin.



Background | Location | Village Committee | Key Aspects | Surrounding Villages