Interactive Article - March 2000

Post Expedition Report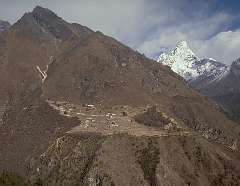 In November 1999, four of Interfleet's engineers set off to Nepal to carry out a community project in a remote mountain village. Zena Esplin led a team of five volunteers including Helen Simpson, Ian Hills and John Simpson and describes how they got on.
"We began with day's cultural and language training in Kathmandu, before taking a rather hair-raising flight to the Everest region. We then had a hard four day trek up to the village of Phortse (4000m). Life in the village was pretty basic - there was no running water, no electricity and we all had to over-come the problems of working at altitude. "
The project began by finishing off work on a new school: painting, fitting some perspex double-glazing and repairing the windows. As the children moved in, the work moved to the old school building, converting it into an indoor play area. This involved removing the classroom partitions, repairing the walls (using mud as plaster), painting the room, repairing benches and installing a table tennis table. The team also fitted out a telecommunications office complete with counter as the village hope to get a telephone in the next year.
" The experience was fantastic and the project was a huge success." said Helen. " We really felt welcomed by the village community and we had a lot of interaction with the local children. Our memories include being surrounded by beautiful mountains, watching the sun rise over Everest and how much we felt a part of village life."
Phortse Team